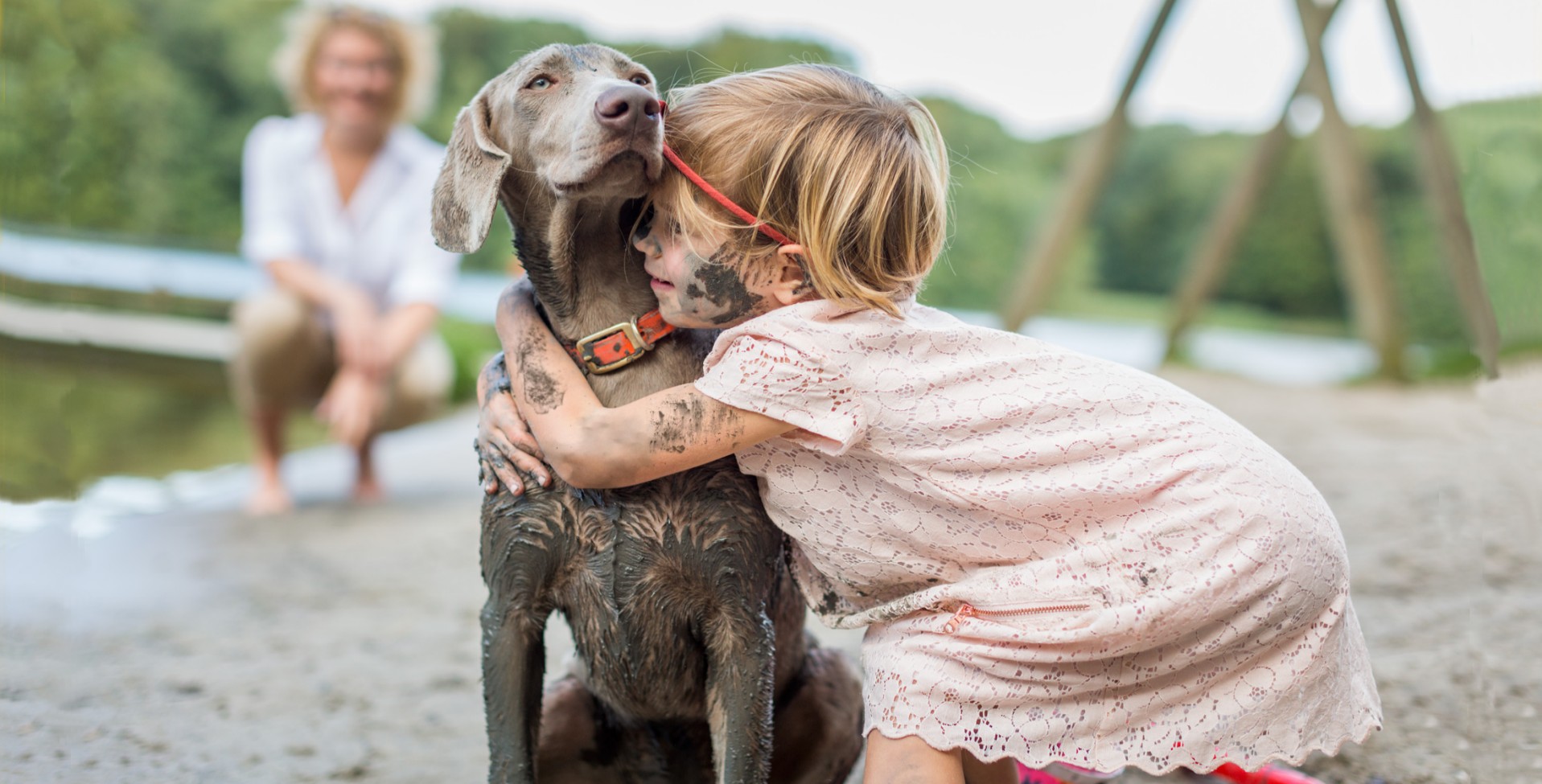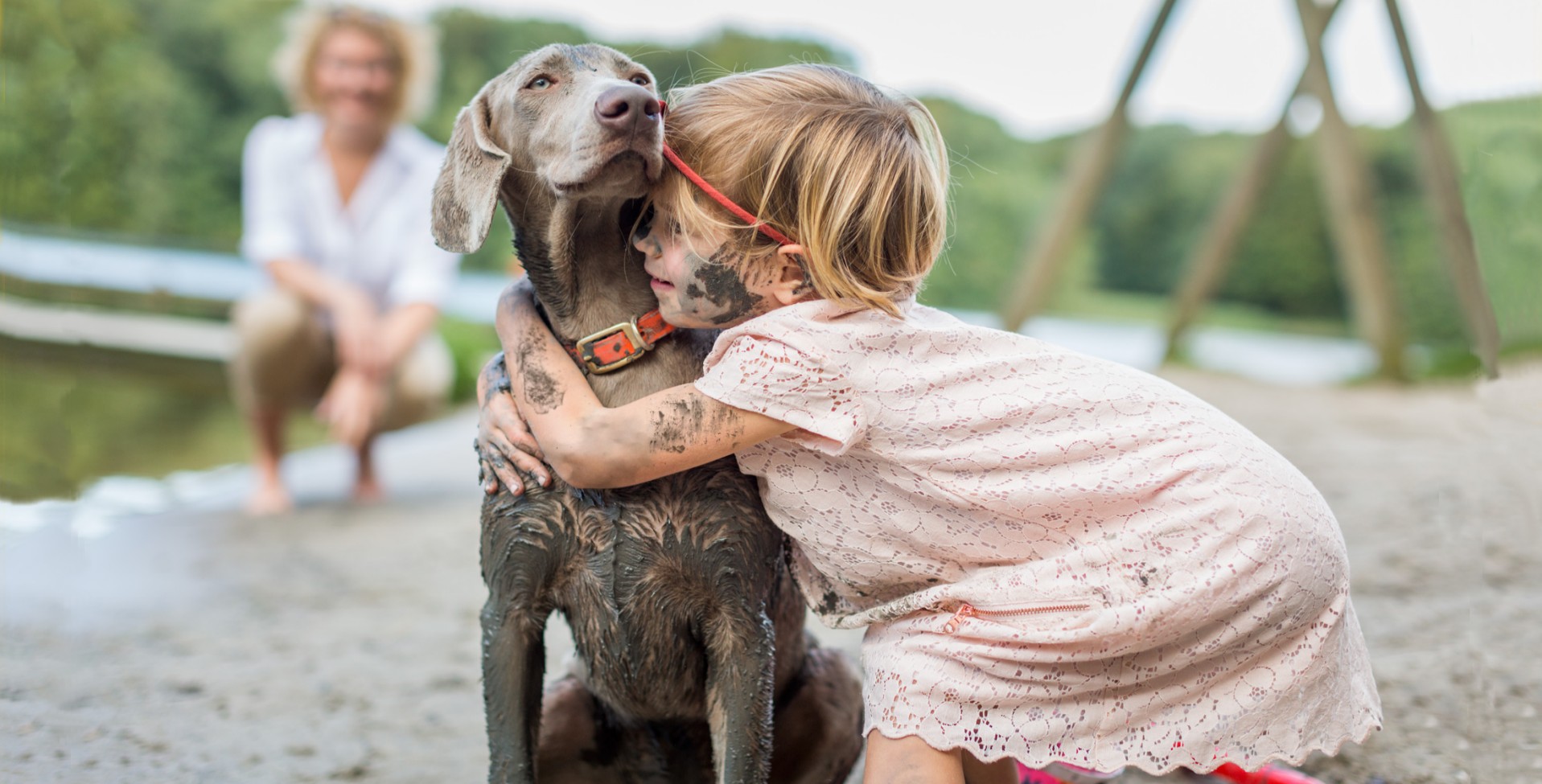 HEAR HOW BRAVECTO®
IS MAKING A DIFFERENCE
Across the country and around the world, veterinarians are recommending the difference of 12-week protection with Bravecto® for the dogs at their clinics.
SEE WHY PET OWNERS LOVE USING BRAVECTO®
READ THE FACEBOOK REVIEWS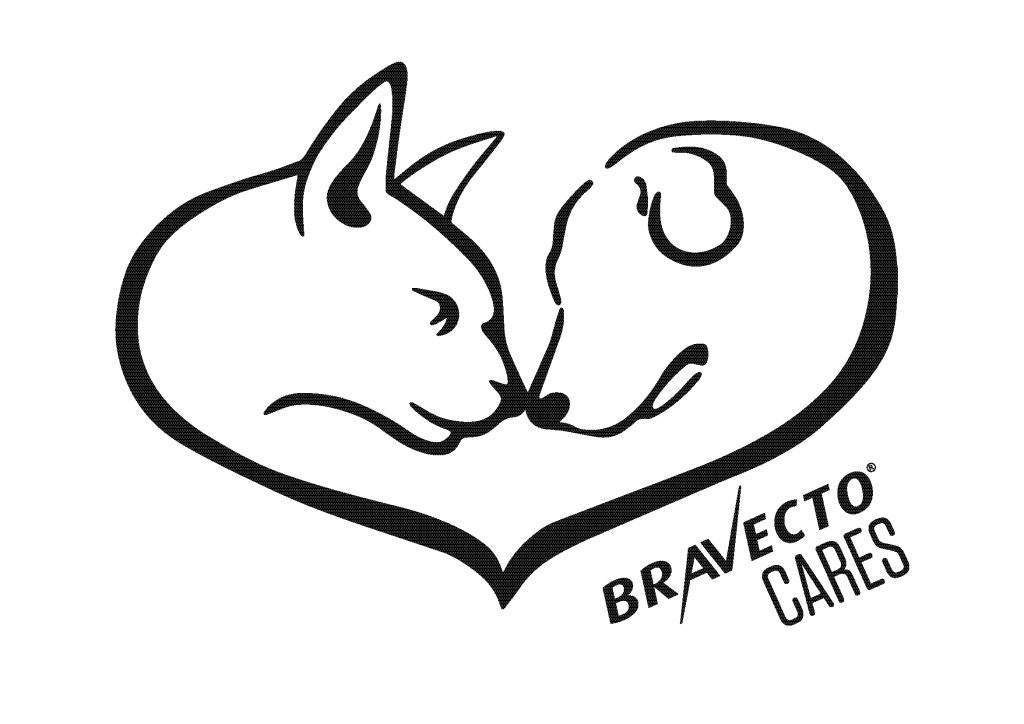 On 24 November 2022 we received the following paw-some feedback from one happy Bravecto® customers. Here is what she had to say: "
I would just like to add that Bravecto® is truly a wonder product!
I live on the Wild Coast. Big tick area and No other product has helped to eradicate ticks on my four furbabies as much as Bravecto® has.
Well done on an excellent product!
Kind regards,
Yvonne Strydom"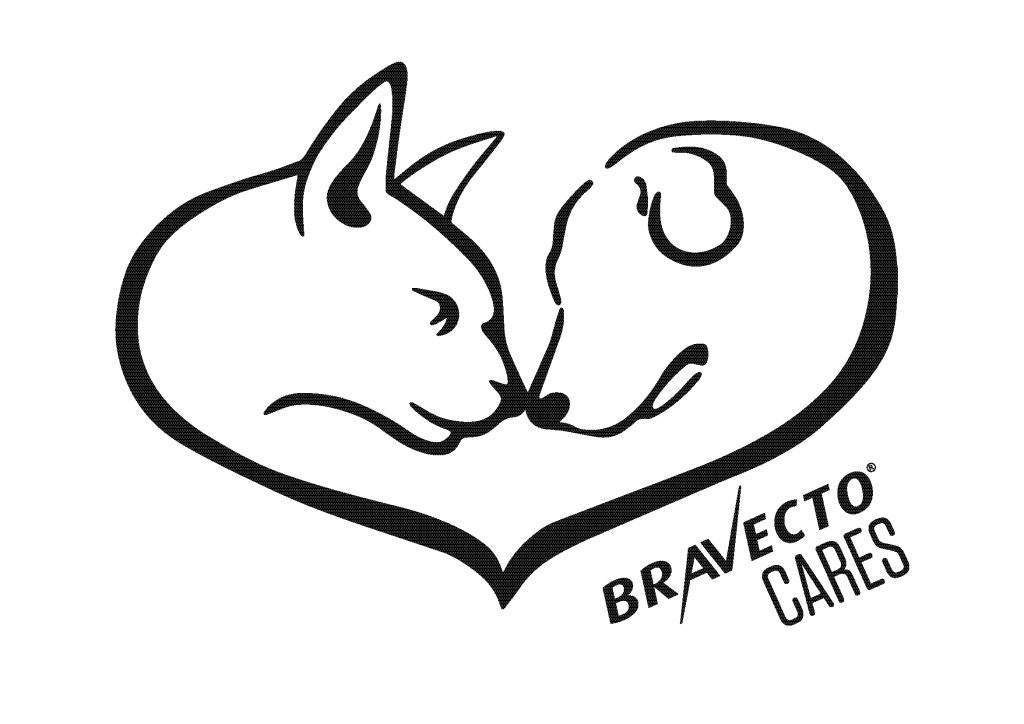 On 14 May 2021 we were pleased to be able to drop off a whole bunch of Bravecto® Spot on for cats for the cats in the care of the Onderstepoort Cat Interest Group. This is a student run NPO dedicated to promoting cat- practice and welfare to all upcoming Veterinarians and Veterinary Nurses. They foster abandoned and orphaned kittens, provide veterinary care and rehoming into appropriate forever homes. They also run a trap, neuter and release program at Onderstepoort for the resident feral colony, as well as organizing and participating in as many "sterilisation days" as possible with the collaboration of vets and veterinary nurses who kindly donate their time. They further collaborate with other non-profit's like Be Wise Sterilise to control the population growth of feral colonies in and around Gauteng.
One of the rescue kittens, adopted by a Veterinary Nurse at Onderstepoort was happy to receive the donated Bravecto® on behalf of all the kittens just like him that are in need of extended protection against ticks, fleas and ear mites.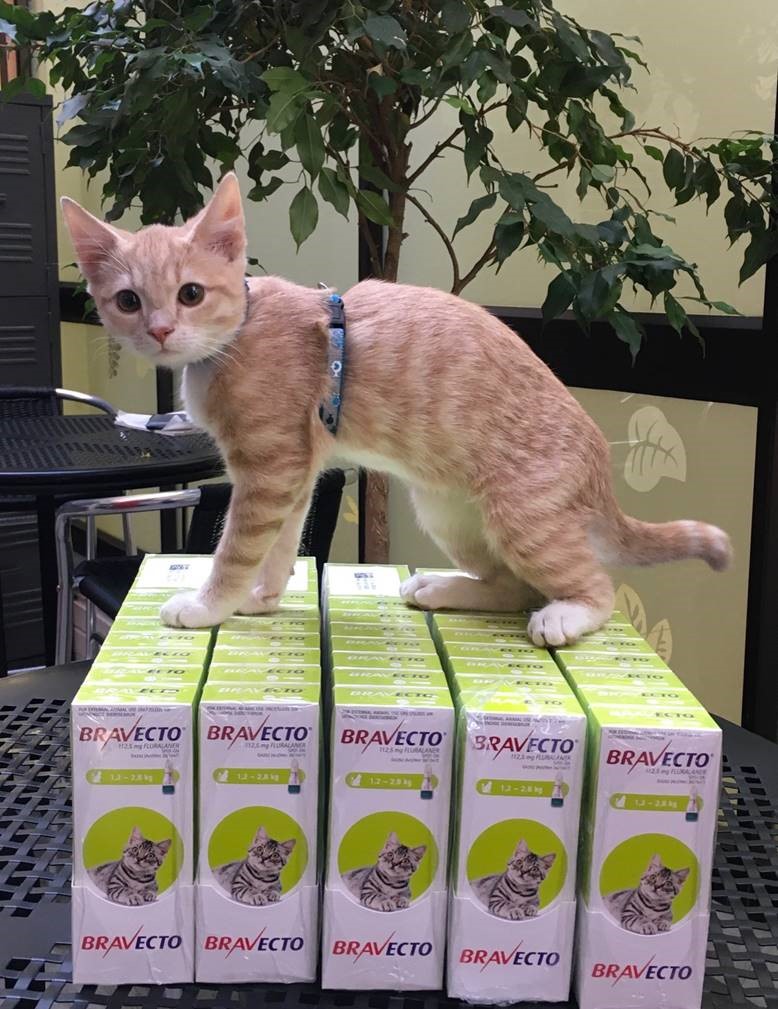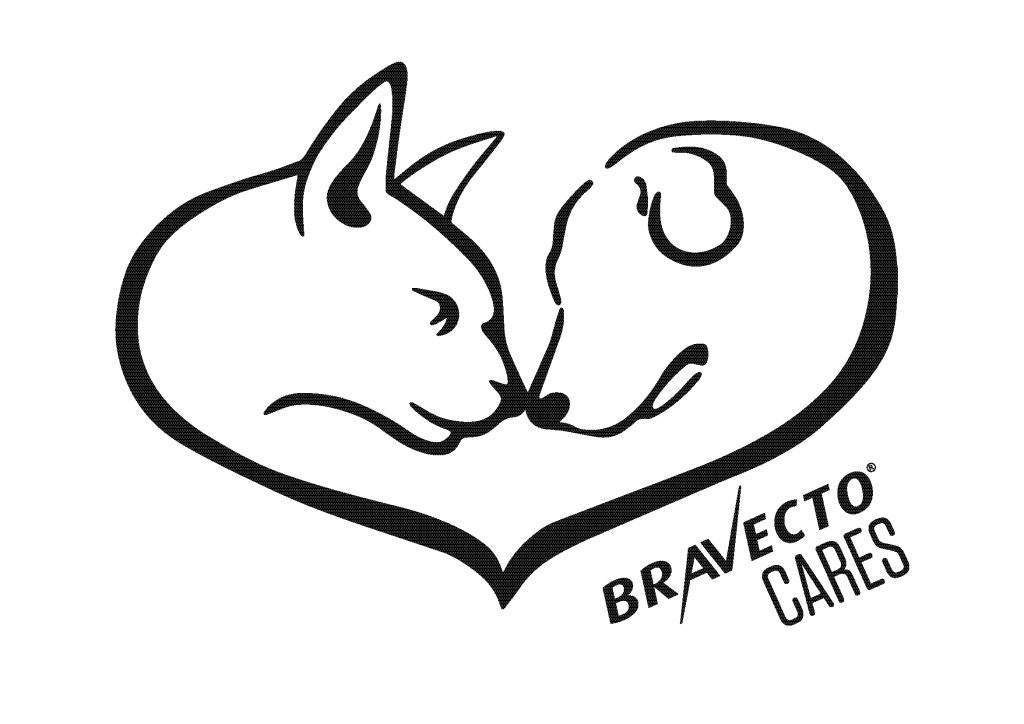 With the impact of the Covid-19 pandemic still being felt across the globe, welfare and non-profit organisations are struggling to meet their outreach objectives with regular donor funding drying up. As a way to ease the burden on South Africa's heroic animal welfare community, Bravecto® is stepping in and donating more than R9 million worth of Bravecto® stock, from May to October, through its #BravectoCares campaign.

"The tireless work done by our dedicated animal welfare community has continued, uninterrupted, throughout the pandemic, but with funds critically low across the non-profit sector, the vital provision of flea and tick protection for animals often falls by the wayside," explained Carolyn Chelchinskey, Business Unit Manager for Bravecto®. "The launch of the #BravectoCares campaign allows us to support the incredible work being done and make a real difference to rescue organisations by alleviating the financial burden, and ensuring these animals are enjoying long-term protection against fleas and ticks."

The #BravectoCares campaign will include donations of Bravecto® Spot-On for Dogs and Bravecto® Spot-On for Cats.

Bravecto® Spot-On for Dogs provides effective protection of four months against ticks, and six months' protection against fleas, while Bravecto® Spot-On for Cats protects cats against ticks, fleas and ear mites for three months. It's a convenient and affordable method for treating parasites, providing this extended protection through just a single dose.

Also included in the Bravecto® range is the popular Bravecto® Chew for dogs which, with a single treatment, provides 12 weeks of flea and tick protection. After treating, Bravecto® Chew starts killing fleas within two hours, effectively killing more than 95% of fleas within 12 hours over the 12-week period.

The six-month #BravectoCares campaign will sponsor Bravecto® Spot-On to 13 pre-selected and nominated animal welfare organisations. Communities are encouraged to nominate and vote for organisations through the 'Bravecto South Africa' Facebook page. The first 4000 units of Bravecto® Spot-On will be distributed throughout May and, to kick off the campaign, Bravecto® has announced the first three recipients will be the Animal Anti-Cruelty League (AACL), the South African Veterinary Association's Community Veterinary Clinics (SAVA CVC) and the People's Dispensary for Sick Animals (PDSA).

"Bravecto® has a long association with these three incredible organisations, all of whom are dedicated to the care of South Africa's most vulnerable animals," continued Chelchinskey. "We encourage communities from all across the country to nominate a local animal welfare organisation that is not only making a difference to the lives of our animals, but could also use some support!"
HOW TO GET INVOLVED IN #BRAVECTOCARES
To nominate an organisation to receive Bravecto® Spot-On donations, follow the 'Bravecto South Africa' (@Bravecto.SouthAfrica) Facebook page. Nominations will open on a regular basis, and you can name or tag an organisation using the #BravectoCares hashtag. The finalists will be announced on Facebook, and supporters are then encouraged to vote for the winner through comments on the post. Winners will be announced on Facebook, and the welcome donation handed over.

For more information about #BravectoCares or the Bravecto® range, visit www.bravecto.co.za or @Bravecto.SouthAfrica on Facebook.

Bravecto® is stepping in and donating more than R9 million worth of stock, from May to October, through its #BravectoCares campaign. Pictured: Carolyn Chelchinskey, Business Unit Manager for Bravecto®, with a shelter dog.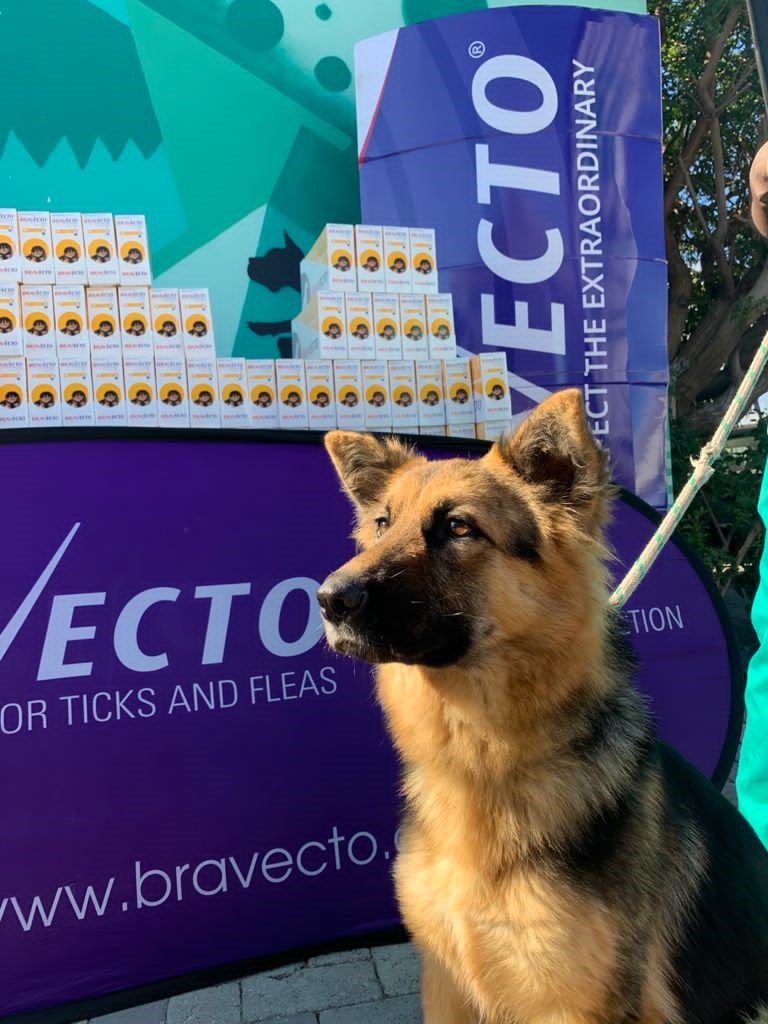 "In 2014 our reserve was hit by poachers and 5 of our rhino lost their lives in the most brutal way. It became clear that the poachers had identified our reserve and they would return until they had killed all the rhino. In desperation to save the surviving rhino we made the hard decision to dehorn them but knew this alone would not save them. The only way to adequately protect rhino's is guard them 24 hours a day so we established an anti-poaching team.
In 2016 everything changed with the arrival of the anti-poaching K9's, Bullet, Shelia and Hunter. The morale amongst the anti-poaching scouts was boosted as they felt safe and protected while out at night. Strong bonds were quickly formed between the handlers and their dogs. The dogs are trained in detection, tracking and attack. The dogs were instrumental in detecting poachers and finding the entry and exit points. Dogs have 300 million olfactory receptors in their noses, compared to about six million in us so they have a far greater chance of detecting poaching activity. We immediately noticed a drop in the bush meat incursions and to date have managed to keep our rhino safe which means they have managed to breed and the herd size has increased.
The dogs continue with their training three times a week and are always so excited to work at night.
Bravecto® has sponsored their care for the past 3 years which has been essential to keeping them free of ticks which is so important for these dogs that work in the bush every day." – Dr Lynne MacTavish.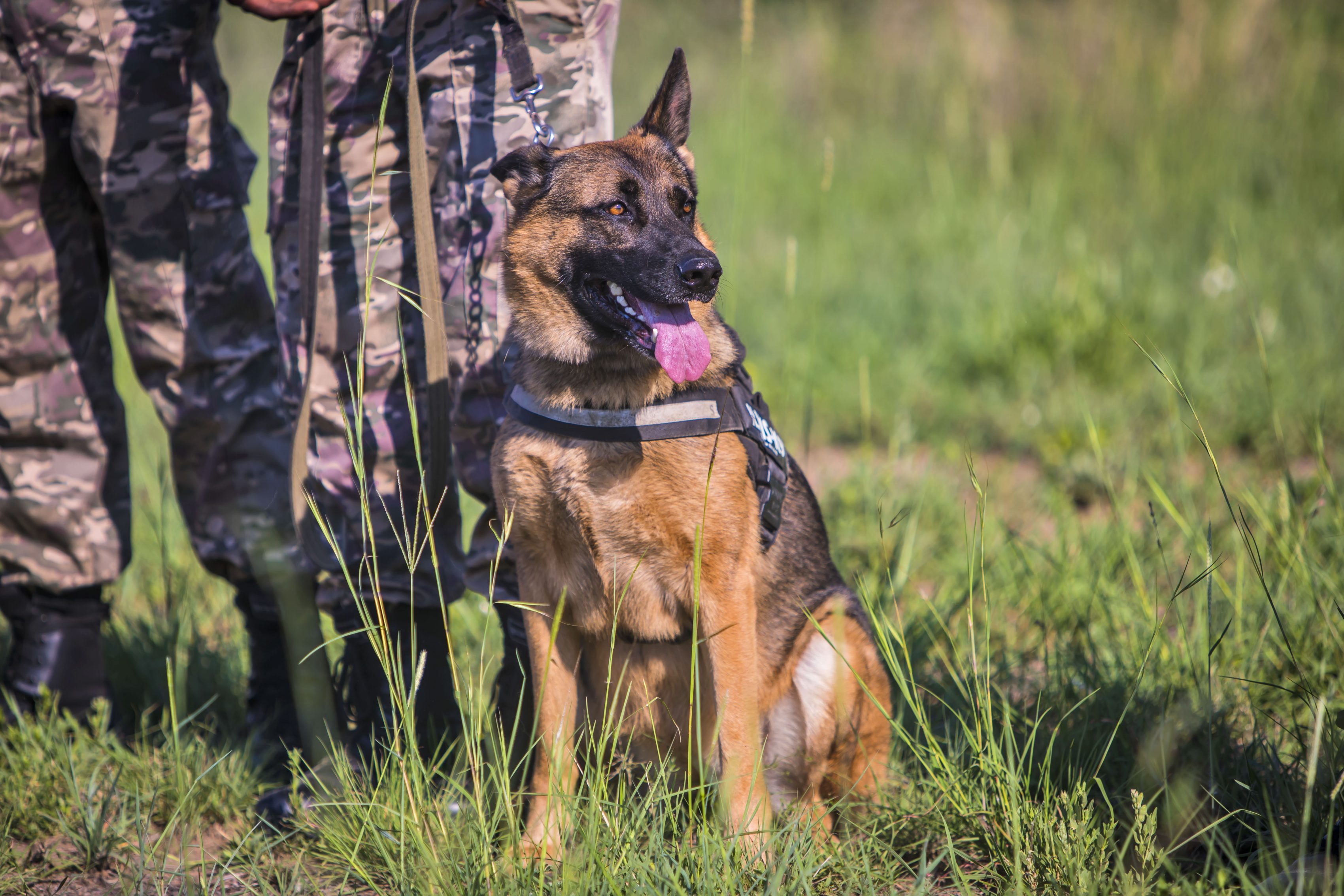 When the Barberton SPCA rescued Hope on 21 November 2019 , they gave her a second chance at life. Hope was given Bravecto, love and healthy food once she arrived at Sumati Vet Clinic. Now, almost 3 months later, Hope has fully recovered and fully recovered and regrown her furry coat. She is pest free and one very happy pup.
Bullet, Sheila, Hunter and Bruno will be sponsored Bravecto® again for the whole of 2020 to help them remain tick and flea free while they get on with their important work of protecting our wildlife.
"The dogs are strong and happy and have remained in good health and tick free thanks to your generous donation of Bravecto®." – Dr Lynne MacTavish.
My dearest four-legged friend, Ilana, loves to eat the Bravecto® tablet every three months. I am so glad, because I, as a blind person, can rest assured that she eats every crumb! Just for safety sake, I keep my hand near her mouth while she is eating the pill. I certainly would not want to lose her because of ticks or fleas. As you can see on the photo, she is a real companion!
Thank you very much for your help.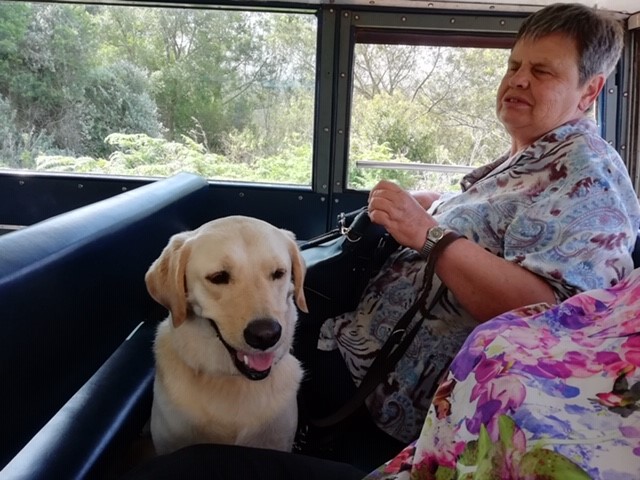 The mange and ticks had caused an enormous discomfort for Tickles and this is what a few days of love and #Bravecto have done for her – the deadly ticks have fallen off and her mange recovery is sure to start!
For more on this amazing product visit: www.bravecto.co.za/flea-and-tick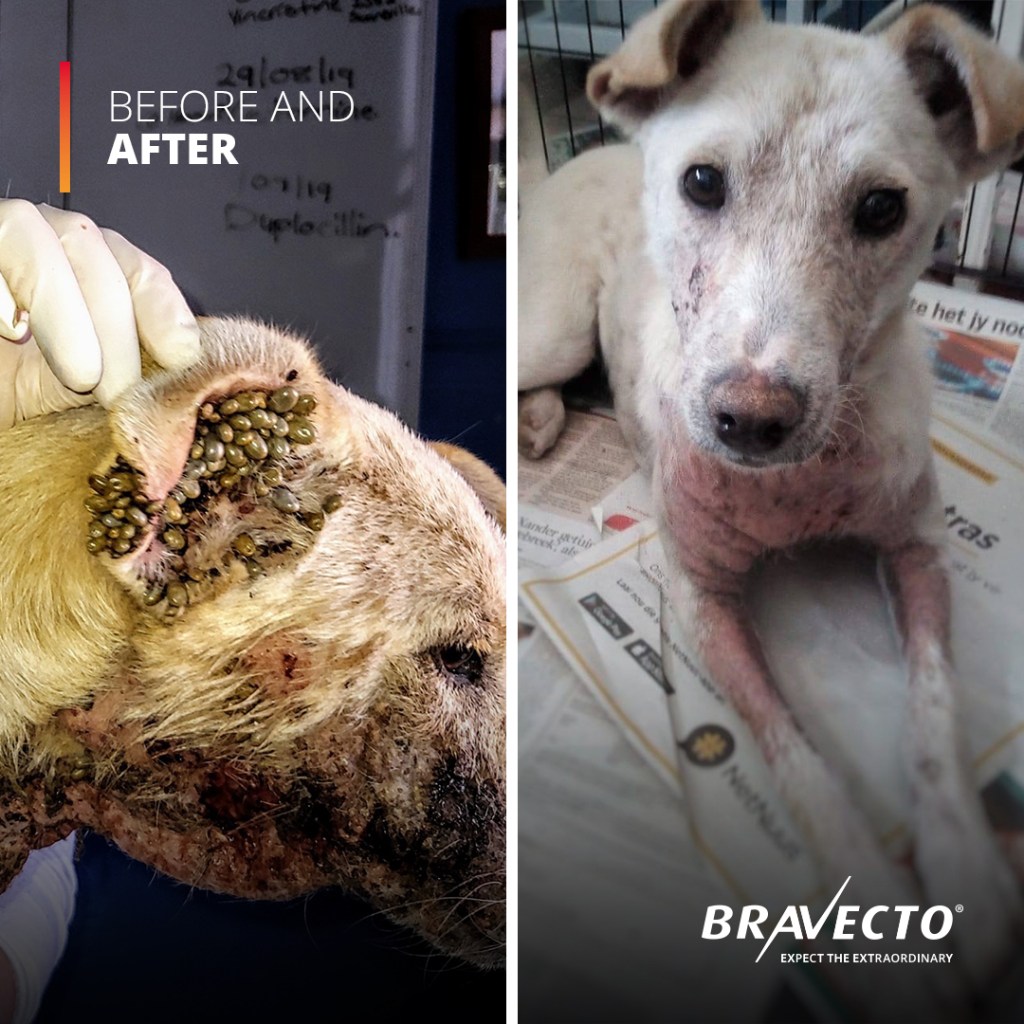 He was given Bravecto Chew and overnight, all the ticks and fleas fell off and out of his ears. After a bath and much needed TLC, he is was happier than ever. He has since been living at a lovely foster home.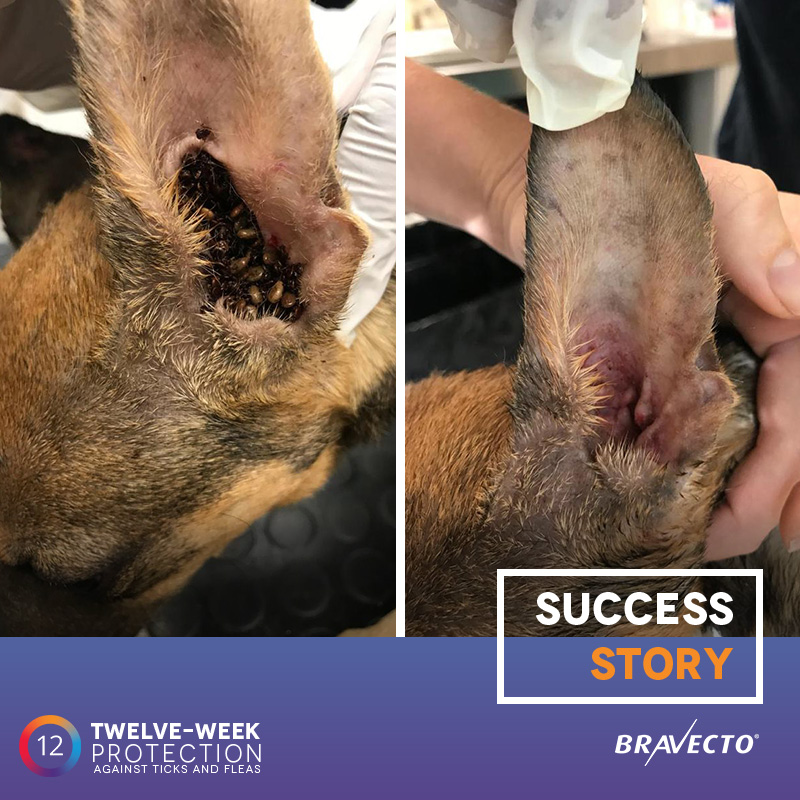 He was treated with Bravecto and the mange cleared up within 2 weeks. His fur grew back and he turned into the handsome little pup he was meant to be. He has since been adopted into a loving home.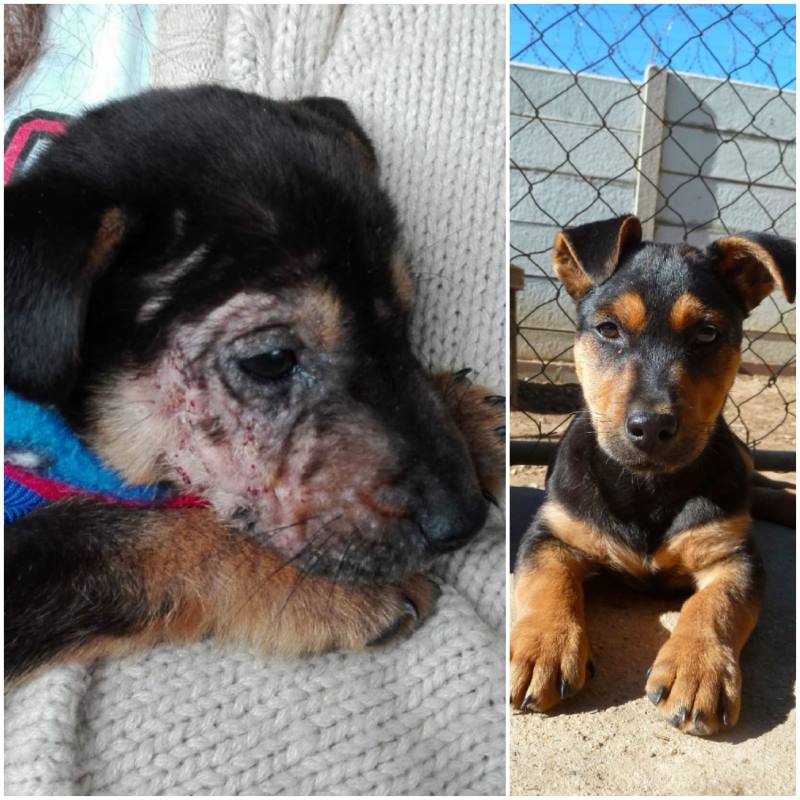 Meet some special individuals from the SPCA Louis Trichardt, they were found infected with severe mange and are now doing so well after only being treated with Bravecto and tender loving care. Thank you to SPCA Louis Trichardt for sharing.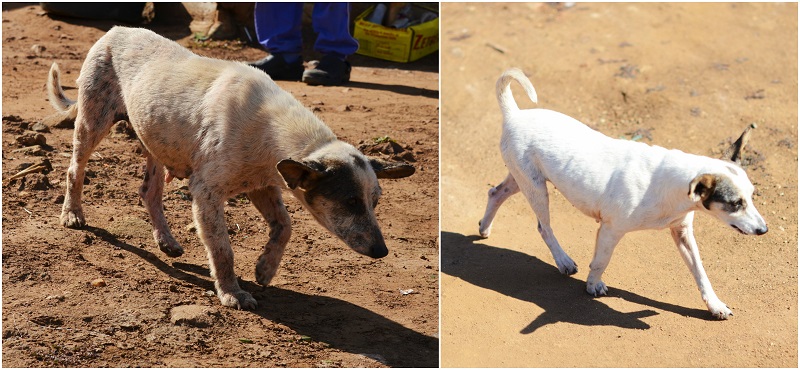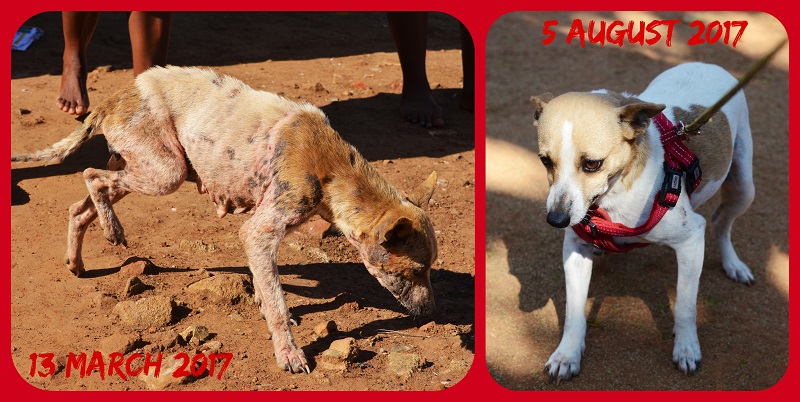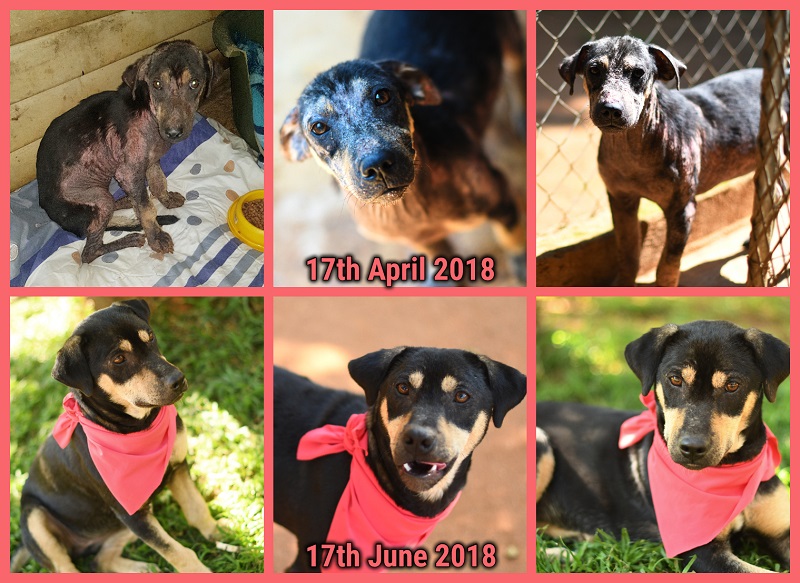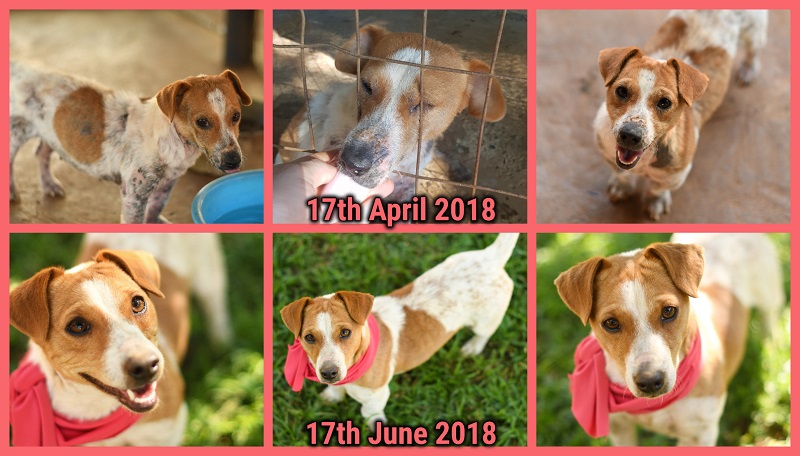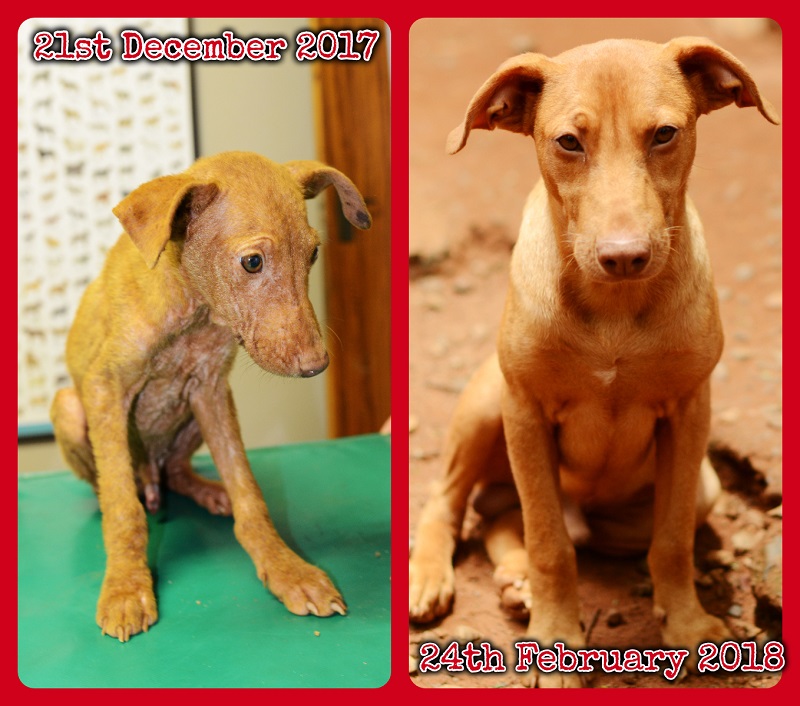 A mere 2 weeks later after one Bravecto and a soothing bath you can already see the difference.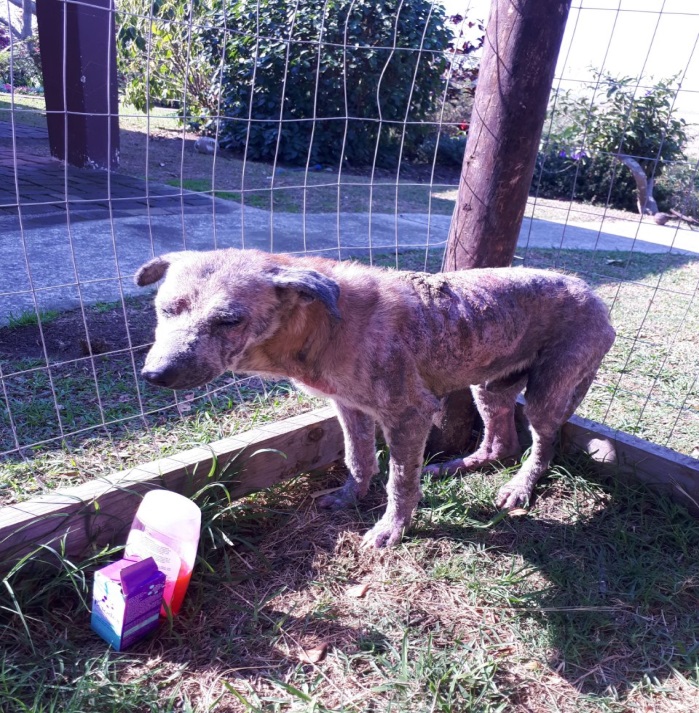 Three weeks after the treatment he is a different dog. 'This treatment has changed the treatment of mange greatly, a HUGE help to rescue organisations' says Renate.
After 5 weeks even the hairless patch is covered.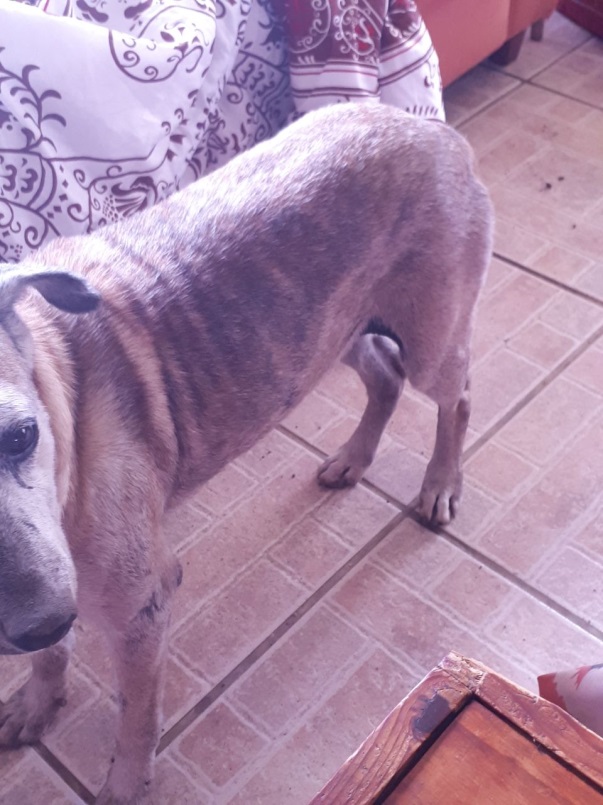 One day he was spotted and taken to the Rustenburg SPCA where with the help of the Bergbos Animal Clinic, was treated for a terrible mange infection. Jasiri has made an amazing recovery with the help of his kind benefactors and BRAVECTO®. Thanks to all the love he received, he has been given a new lease on life.
In July Jasiri was adopted and is now living the good life with his new family.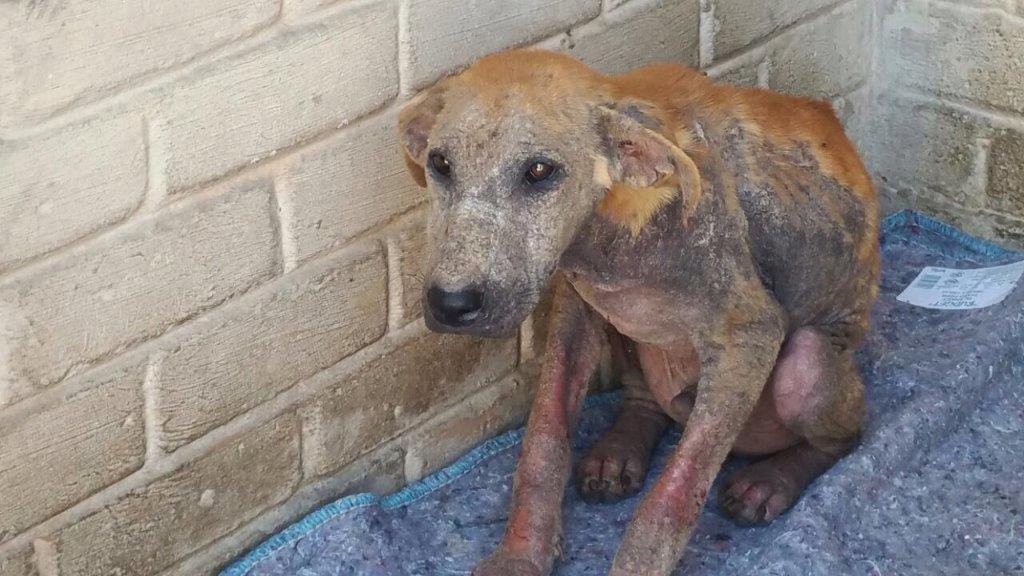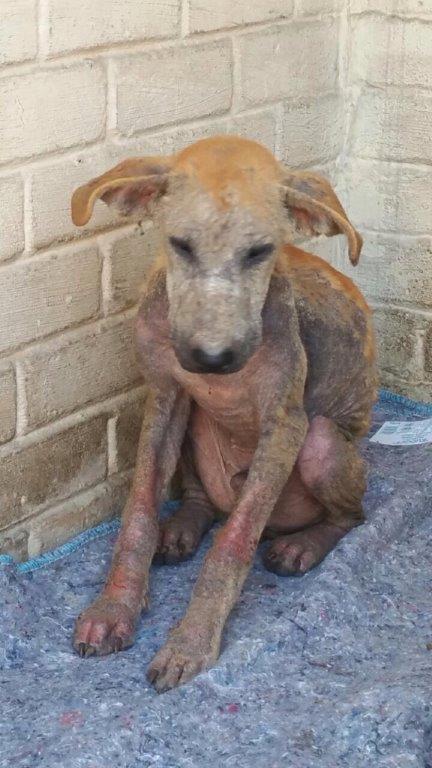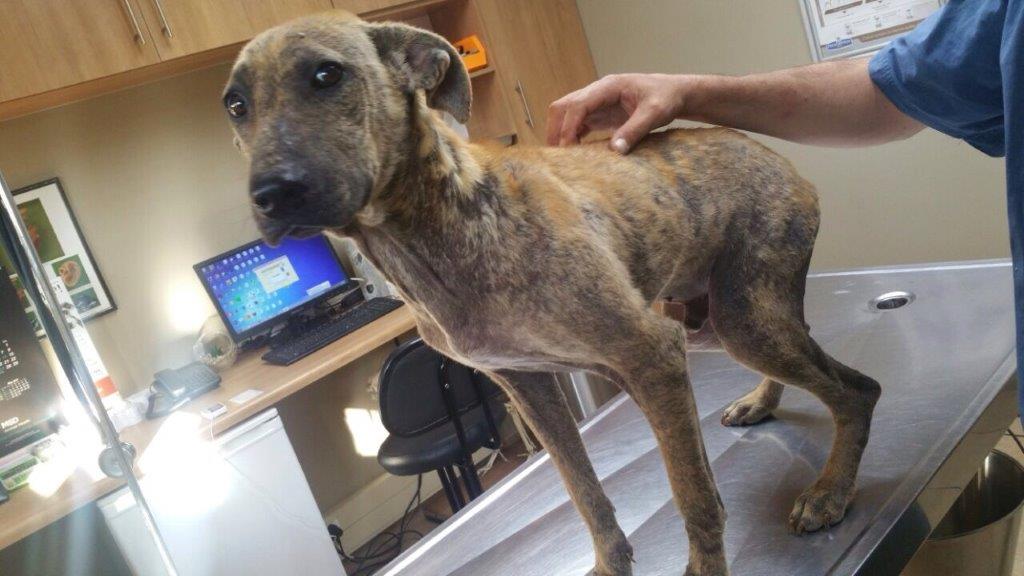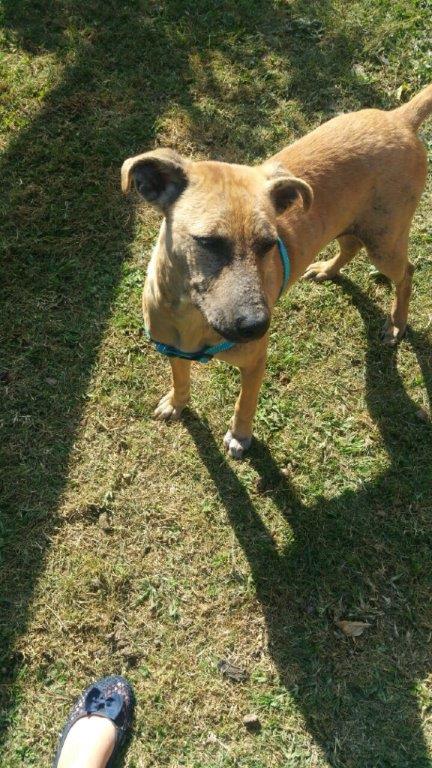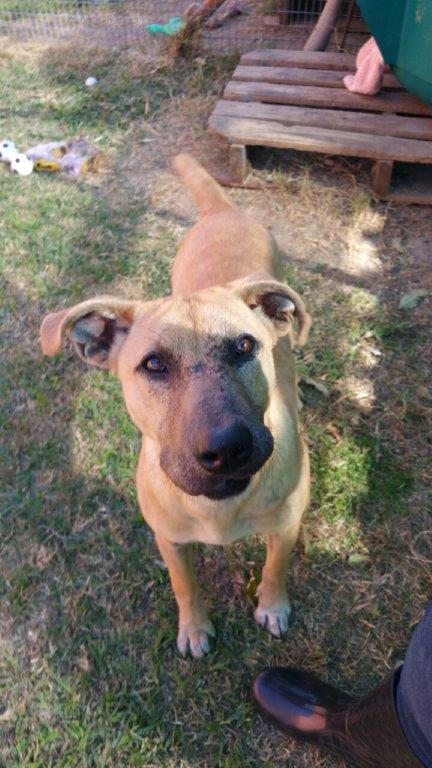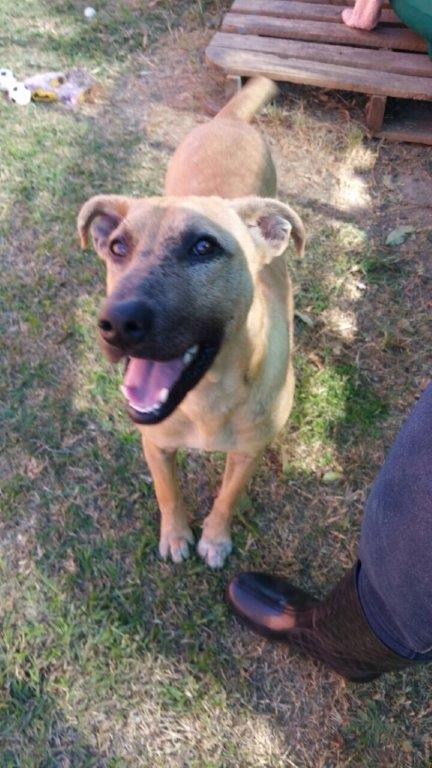 She was seen at a scrapyard and our organization were informed. We immediately went out to investigate. When she arrived at our Rescue Centre everyone was shocked to see the condition she was in (and we work with horrible cases daily) A photo can't really describe exactly how Jojo looked. She was full of blood, and she cowered away in a corner. It was heartbreaking. The hard work begun!
New Beginnings Rescue Centre specializes in cases like this. We are a private rescue and rehabilitation centre who only focuses on real rescue work. We rescue, we heal and rehabilitate and we spend a lot of time and money on animals who are broken and who would have died a horrible death if we didn't step in.
Jojo was treated with Bravecto among other medication and dips. She was worked with on a daily basis. Our staff had to get her healthy, but also gain her trust and address her extreme behavioral problems. She hated a leash or any kind of rope. She attacked our staff.
She progressed very slowly, BUT New Beginnings is not an organization who gives up on the first signs of defeat. We pushed through.
One day a lady whom we knew pitched up looking to adopt from us. We thought of showing Jojo to her, but Jojo was still on her way to full recovery. We told her about Jojos behavioral problems and she fell in love…!
Our Jojo was going home!! We couldn't believe it. Everything worked out perfectly since Jojo needed a home without other animals and electric fencing and that was exactly what May could offer. After the homechecks, Jojo went home!!
Now Jojo is a spoiled, fat and extremely happy dog!! We receive updates of her regularly and she visits us now and again at a Dog walk or fundraising event.
This is one of our MANY success stories. A real rescue story that took a lot of heart, courage, time, energy and money, but was totally worth it!!
For more information on the work we do at New Beginnings, please visit our facebook page: www.facebook.com/newbeginningscharity
He is literally my best friend. When I first heard about Bravecto.. It sounded too good to be true… There was NO WAY that one tablet could be so effective for 12 weeks. But there Came a time when I was desperate to help my boy get rid of the ticks and flees..he would lay there scratching and I could see it in his eyes that he was unhappy… so I decided to give it try. To my amazement, in literally 10 mins after giving him the tablet … I could see the ticks and flees falling off. 😱 I stood there in shock. I could not believe my eyes. I am so grateful for this product. .. Breezy is much more happy.. Full of life and Full of energy . I love Breezy with all my heart…I cannot begin to explain how much my life has changed since he has being a part of it. He is my Hero as he saved my life from intruders…I could never ask for a better friend because When I need one.. . I always found his paw and that is why he deserves only the BEST….. which is why I only give him Bravecto
Kurt Richards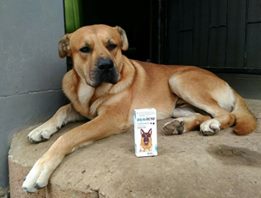 Hi Kim
I have posted the following on your facebook page too.
I have been meaning to send #bravectosouthafrica an email regarding our success story. In 2015 we bought a cute fur ball from a local petshop, Zorro. He stole our hearts from the very moment we set eyes on him. He is a cross breed. A very busy one, with such a unique personality. He surely believes he is part of the human race. Well we treat him that way. He is our first born!
About a year into his life he started showing signs of a skin condition. We tried home remedies, but could not find anything that worked. Eventually took him to the Vet, as he became a different dog. He became very sleepy, restless and not interested in anything. He scratched himself 24/7. That added another factor to his condition as his skin was torn, scratched and full of sores.
The Vet diagnosed him with dermodex manged which was transferred from his mother through nursing. He received injections and antibiotics with a dip used on cattle to help fight the mange from the vet.
As parents to this amazing youngster, our hearts got broken when the she said we will never be able to get rid of the mange but only control it. In a months time he was in such a good state. Thank you #lorrainevetportelizabeth .
Not too long after the visit to the vet we were at the same place, again. After spending thousands, I started consulting with my cousin who is a brilliant vet, Claude Deyzel, owner of #BergzichtAnimalhospital in Big Bay. He immediately recommended Bravecto, then a new product on the market, that controls ticks, fleas and mange.
I can honestly say, no injections, NO hair loss, no scratching, no ticks and no fleas. Just one happy and healthy boy. He is now on his third round of Bravecto. He is almost 3 and he looks great.
Thank you Bravecto. You changed our lives tremendously! Enjoy the photos!
Thanks
Chantel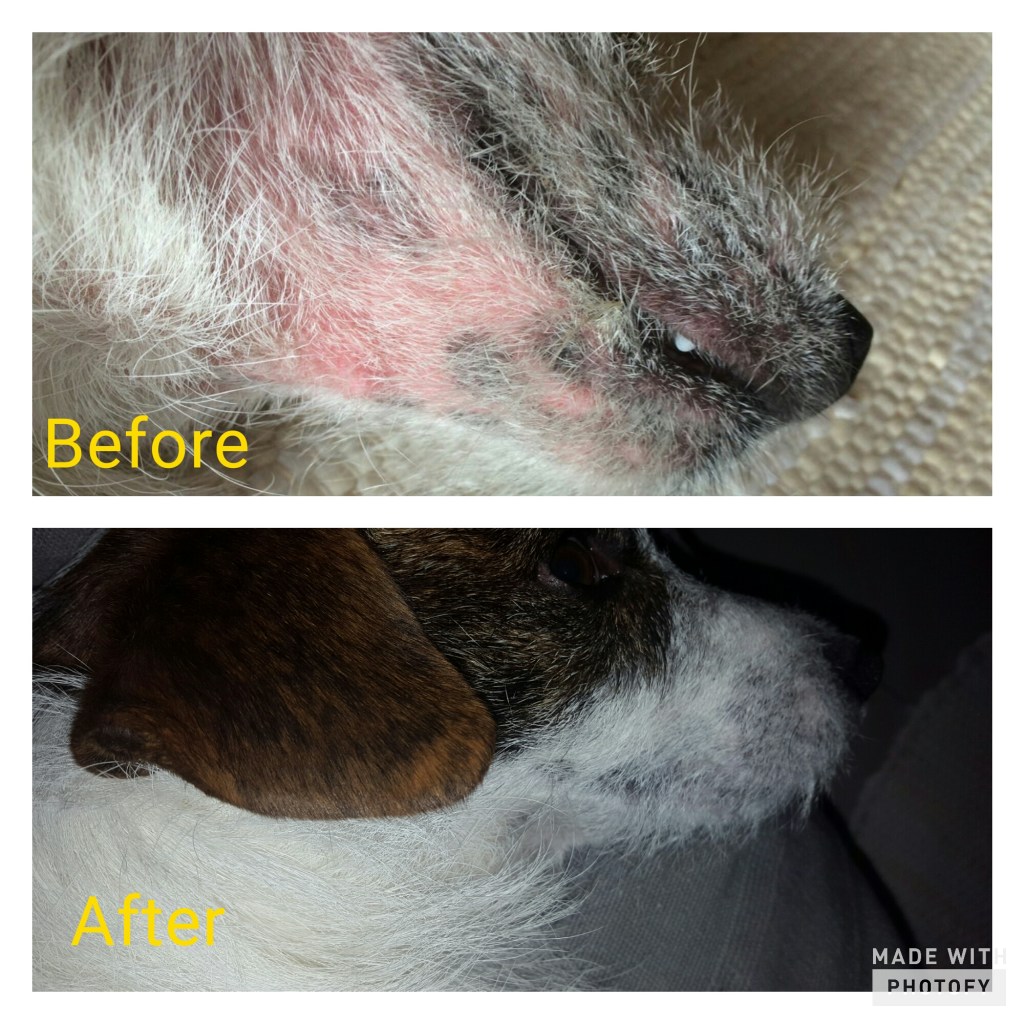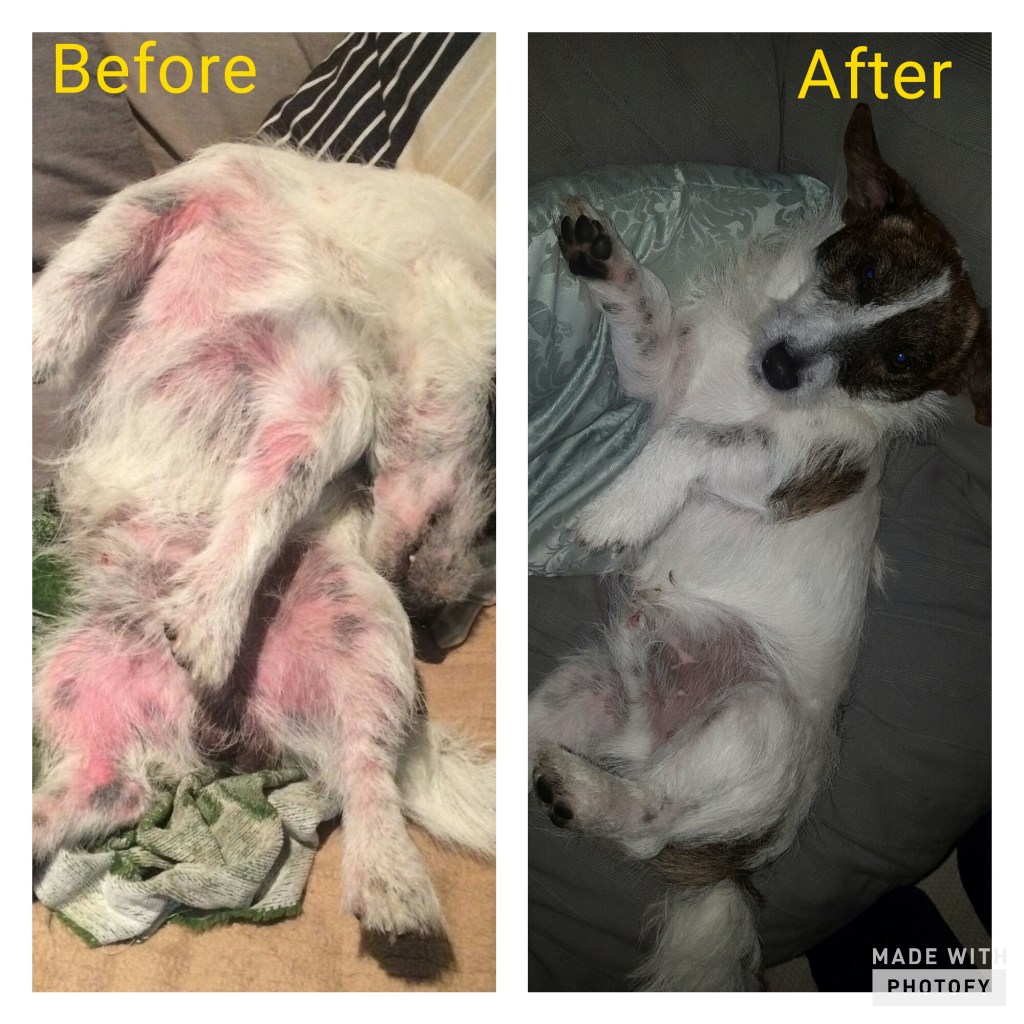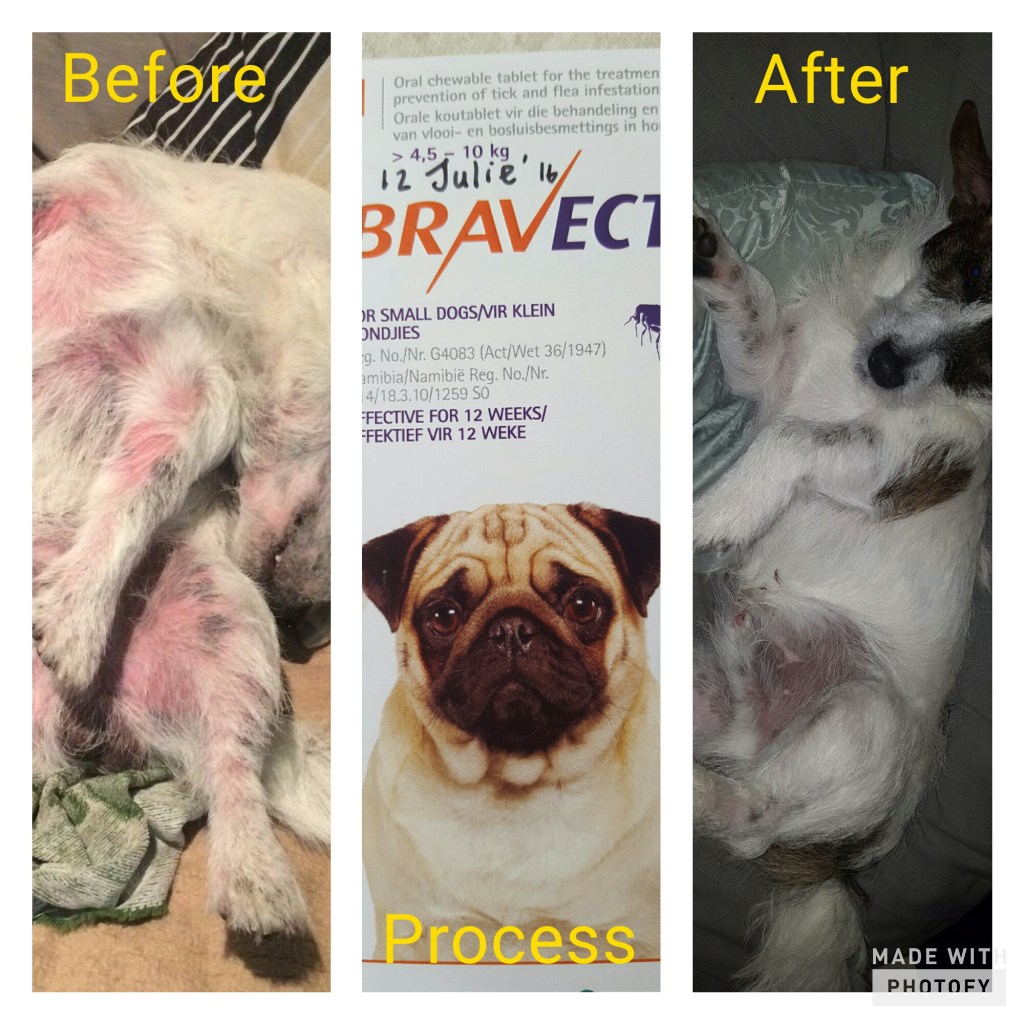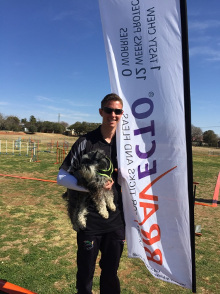 "I have recently started using Bravecto. It is easy to give my dog and and I don't have to worry about him jumping into the pool or making appointments with the parlor around the dates I usually give him his tick and flea protection. My dog loves to roam the farm and I have no worries now that I'm using Bravecto. Happy dog, happy owner! Thank you Bravecto!"
Keegan Taylor and Zoom
"Bravecto has given me a peace of mind- knowing my dogs are safe from tick-borne diseases. I have been traveling around Europe for the past 2 months and when I got here I saw a tick that I haven't seen in South Africa before (a deer tick) this got me really worried. But thanks to Bravetco they are protected and we can enjoy our daily forest walks and swims in rivers and lakes!!! :)"
Ashleigh Serrem and Ziva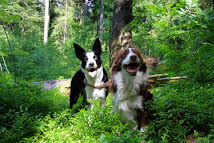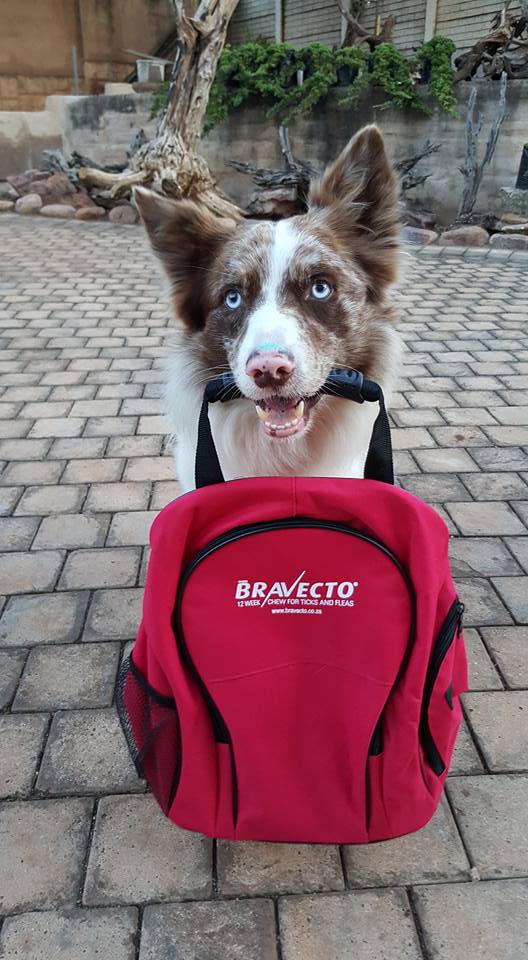 "Bravecto has been a real lifesaver for me! Since using Bravecto my dogs have been tick and flea free. It is also great to know that they are constantly covered especially in the Summer when they love to swim! Easy, hassle free tick and flea treatment."
Taryn and China
"My dogs swim a lot and walk almost every day on fields where there are ticks, so it is nice to have that peace of mind that they are protected even with them getting wet regularly."
Annaret Meintjes, Catch and Bowie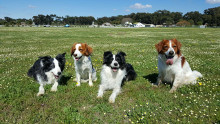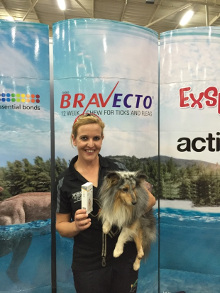 "I have been using Bravecto on all my dogs, ranging from ages 14 years to 8 weeks, since it's launch in South Africa in 2014, with no side-effects or problems. It is convenient and efficient. My dogs swim… A LOT. Now I no longer have to worry about treating them for ticks and fleas in between swims. It has even withstood the toughest fleas, which previously could not be treated by any other product on the market, this is good news, because now we can start going to our favourite guesthouse in KZN again with peace of mind. I am very grateful to MSD and Bravecto for making my life easier."
Alett Reed
"Bravecto was the first thing I gave my imported pup. It really does give you peace of mind. My dogs are always going to new places and I have complete confidence in Bravecto to protect my dogs"
Jason van der Nest and Jag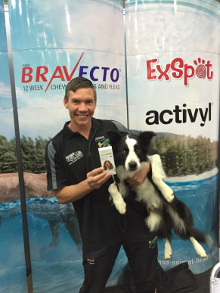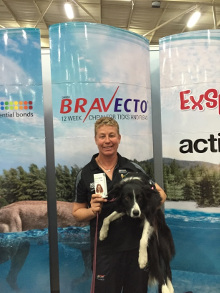 "I use Bravecto as I live on a plot. We have horses, cows, goats and sheep all around us. I used to dip them weekly and using Bravecto now is less work. The 12 week routine is just beyond wonderful…… My dogs swim every day in summer and that was a huge concern too."
Noelene Pretorius and Bright
"I have been using Bravecto on my four shelties since September 2014 and it has really kept the ticks at bay. I haven't seen any on them since then.
We live on a plot, so with their long hair it was difficult to see if ticks were attached. Bravecto has really helped putting my mind at rest knowing that they are safe. The long walks in the grass, and the frequent swimming really help as they can now do that as often as they wish now with Bravecto. The shelties are also a lot happier as now they don't have to go through the "tick patrol" routine after an enjoyable walk."
Gail Killian and Kimberley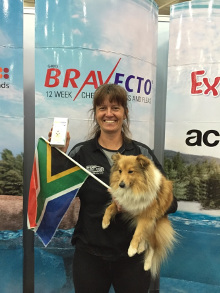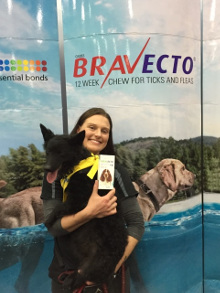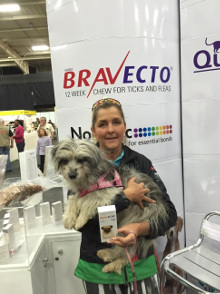 Rescued from Death Row at the Grabouw SPCA by a non-kill shelter, I was adopted by Linda and that was the day I rescued her from all the negative effects of life.
Needless to say, I was not in the greatest condition upon my arrival to my forever home. One major concern was a raw, sometimes bleeding spot on my back, just above my tail. This was a spot where every flea loved to plague me, and, as fate would have it, I was allergic to it. A trip to the vet, an injection later and a course of pills sorted that out.
Or did it? Within less than a week of the above course of pills being finished, the wretched spot re-appeared and a subsequent course of pills had to be taken. (So WHAT if they were small pills, they were still pills). A week passed, and all was well, then two, and then a month…. and then, just as we thought we were out of the woods, it flared up again!
As fate would have it, it was that time of the year for the other woofs in the house to get their BRAVECTO. Being a member of the family, I wasn't going to get left out, and I too was included in this delicious treat time.
Imagine everyone's surprise when, within a couple of days, this spot completely disappeared! No more irritation, no more itching, no more licking or gnawing. That was over a year ago, and not once, during all this time has that spot made any sign of reappearing and the fur in the affected area in now thick and healthy.
So, in closing, all I woof now is a great big thank you to BRAVECTO.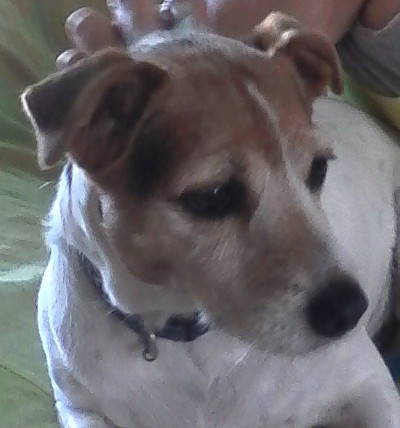 My name is Basil, a Beagle x Basset and, because of my rotund shape, I was abandoned at a no-kill shelter and had to wait over seven months to find my new forever home in Cape Town.
Upon my arrival by plane, I was simply overwhelmed with the beach – I love the beach, I love sand, I love open spaces and after having learnt how to climb stairs and jump on the couch and bed, I love all the comforts of "home".
It wasn't long before my human noticed that under my fur, on my skin, I was a living "sand-pit". After a most unceremonious trip to the pet parlour, I was sand free – for not even a week. The sand irritated me and I was constantly scratching and Mum was constantly brushing. Trips to the beach came to a halt and even lying in the sand in the garden got frowned upon.
It didn't take too long for my human to realize that the "sand" was in fact, flea dirt!!! Horror upon horrors!!! Trips to the pet parlour, baths (none of which were enjoyed by me), flea powder – NOTHING worked. Until one day………
On her daily trip to the Vet Shop for our evening treats upon her return home, Mum spoke to the lady who worked there and instead of a treat that evening, I was given a chewy tablet. Anything is yummy to me (I take great pride in my tummy, you know) and what ensued next, the humans are still talking about today.
Within minutes of me chewing this tablet, sitting next to Mum on the coach, an army of fleas literally took off – they fell off my body and simply disappeared into thin air!! They came off my tummy, they came off my paws, off my legs, never have we seen so many fleas. The humans were a little concerned about the fleas leaving my body and running around on the furniture, but there was no sign of them!
I just had two BRAVECTO treatments now and am so very pleased and relieved to woof that I haven't had a flea or a sighting of a flea since.
I know for sure that my humans won't ever consider anything less or else for me. I'd like to thank BRAVECTO for allowing me back onto the beach and back out into the garden and being able to enjoy all the doggy things that caused my Mum to call me her "sand-pit".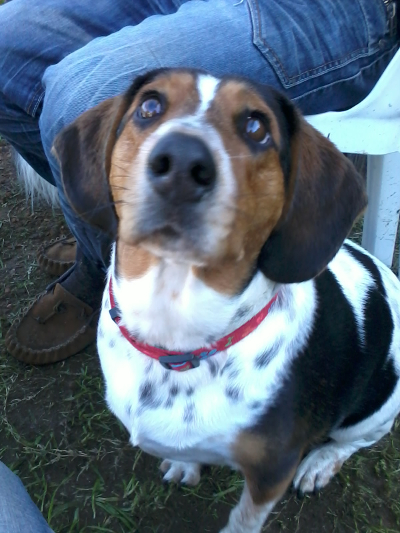 Mum said I must woof you about the best event of my life, and even let me put my paws onto the laptop!
You see, I was only 6 weeks old when I (along with my two sisters) were saved from someone trying to drown me and my two siblings in a box in Benoni. As fate would have it, the Happy Tails team decided to adopt me and I flew down to Cape Town.
It's only the best for us in this house, and, after the age of six months, I was given a topical treatment for fleas that all the others enjoyed. Something went wrong, and I was rushed off to the vet at the speed of greased lightning! One of my pupils was completely dilated – it seemed as though my whole eyeball was black! After the necessary treatments, and being kept in the dark, my eye came back to normal.
Sadly, that's when my nightmare really began. I am a white little dog with a pink nose. My skin under my fur is also pink and extremely sensitive. Mum refused to use anything other than fresh mint and lavender for my flea control – to no avail. It was then discovered that I had a flea allergy. This allergy led me to scratch and moan incessantly and sometimes, I would scratch myself open. I was really NOT a happy puppy at all.
But still, my humans would not get me any more topical treatment. Fleas powders were useless, tasted absolutely terrible, gave me a tummy ache and then, that too was stopped. Special shampoos were bought and my life just got more and more miserable – you see, I simply HATE having a bath. My bath times became such an impossibility that the only way to get me bathed was for Mum to jump in the bath with me!!
Then, one day, ONE day……. Mum came home with a yummy, chewy treat. Now this treat was a REAL treat. Within less than 20 minutes, I was completely itch free! I can't tell you the relief I feel….. less than a week later, my skin improved and all my sores had miraculously cleared up. As for fleas? Well, I just can't remember when I last saw one.
I've been on BRAVECTO for just under a year now, and I wish I had been on it my whole life! I feel like the puppy that I couldn't be before because of my terrible itching and allergies. My skin is in excellent condition and I have a coat that is thick, clean, healthy, soft and smooth.
I guess in short, I just want to woof to the rooftops : THANK YOU, BRAVECTO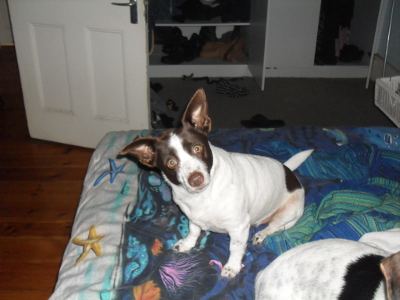 Share how Bravecto® has made a difference in the life of you and your pet!
"*" indicates required fields